World Countries Ranked by Electricity-Consumption Per Person
According to the U.S. Energy Information Administration's International Energy Statistics, global electricity consumption is continuing to increase faster than the world population. Increases in electricity consumption per capita can reflect several things, including changes in the economy's composition, shifts to energy-intensive industries, increased demand for appliances and air conditioning, and changes in service demand. Check out the very first visualization from SolarPower.guide below that reveals the countries with the highest electricity consumption per capita around the world.
Click the below image to view full-size.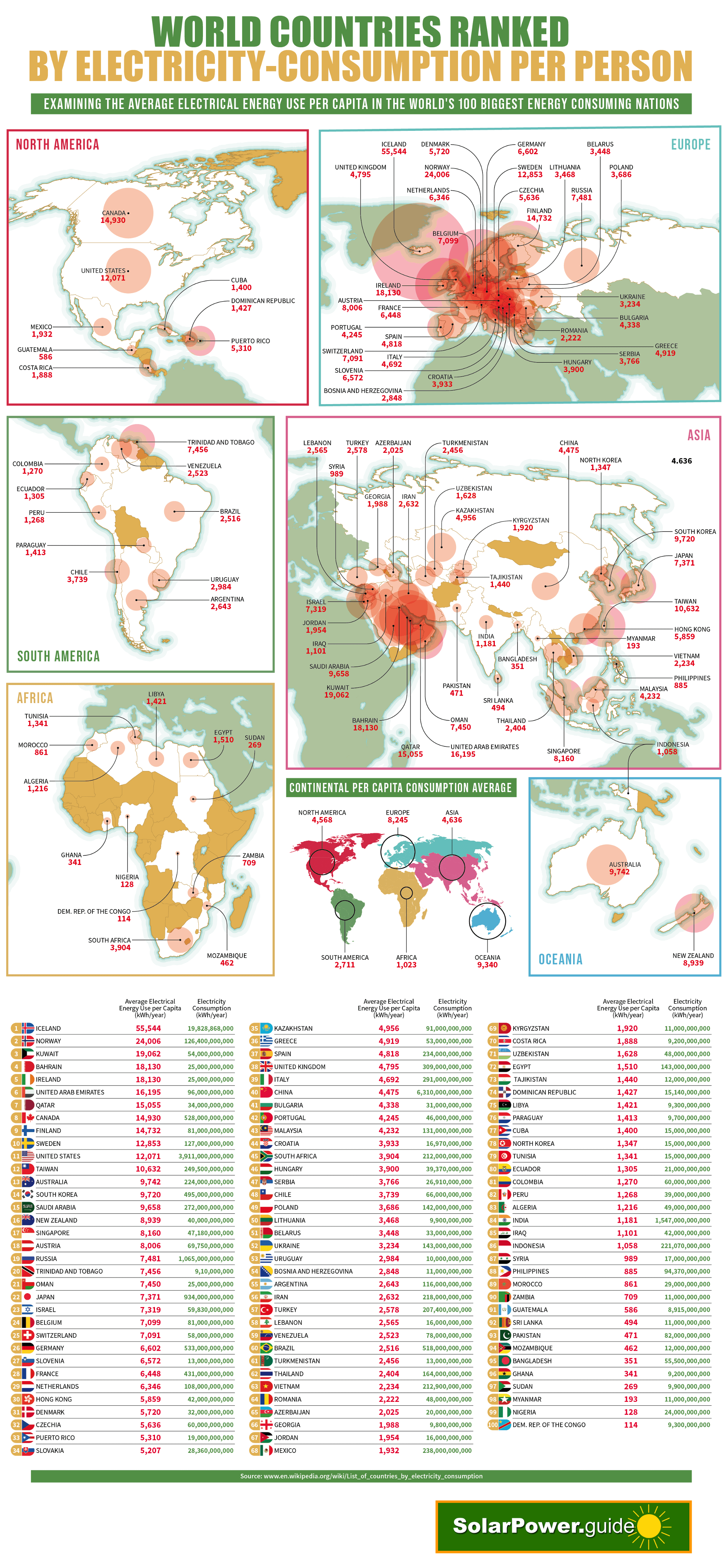 Simply copy and paste the code from the box below to share.
These are the 100 countries that have the most electricity consumption:
China: 6,310,000,000,000 kWh/year
United States: 3,911,000,000,000 kWh/year
India: 1,547,000,000,000 kWh/year
Russia: 1,065,000,000,000 kWh/year
Japan: 934,000,000,000 kWh/year
Germany: 533,000,000,000 kWh/year
Canada: 528,000,000,000 kWh/year
Brazil: 518,000,000,000 kWh/year
South Korea: 495,000,000,000 kWh/year
France: 431,000,000,000 kWh/year
United Kingdom: 309,000,000,000 kWh/year
Italy: 291,000,000,000 kWh/year
Saudi Arabia: 272,000,000,000 kWh/year
Taiwan: 249,500,000,000 kWh/year
Mexico: 238,000,000,000 kWh/year
Spain: 234,000,000,000 kWh/year
Australia: 224,000,000,000 kWh/year
Indonesia: 221,070,000,000 kWh/year
Iran: 218,000,000,000 kWh/year
Vietnam: 212,900,000,000 kWh/year
South Africa: 212,000,000,000 kWh/year
Turkey: 207,400,000,000 kWh/year
Thailand: 164,000,000,000 kWh/year
Egypt: 143,000,000,000 kWh/year
Ukraine: 143,000,000,000 kWh/year
Poland: 142,000,000,000 kWh/year
Malaysia: 131,000,000,000 kWh/year
Sweden: 127,000,000,000 kWh/year
Norway: 126,400,000,000 kWh/year
Argentina: 116,000,000,000 kWh/year
Netherlands: 108,000,000,000 kWh/year
United Arab Emirates: 96,000,000,000 kWh/year
Philippines: 94,370,000,000 kWh/year
Kazakhstan: 91,000,000,000 kWh/year
Pakistan: 82,000,000,000 kWh/year
Finland: 81,000,000,000 kWh/year
Belgium: 81,000,000,000 kWh/year
Venezuela: 78,000,000,000 kWh/year
Austria: 69,750,000,000 kWh/year
Chile: 66,000,000,000 kWh/year
Czechia: 60,000,000,000 kWh/year
Colombia: 60,000,000,000 kWh/year
Israel: 59,830,000,000 kWh/year
Switzerland: 58,000,000,000 kWh/year
Bangladesh: 55,500,000,000 kWh/year
Kuwait: 54,000,000,000 kWh/year
Greece: 53,000,000,000 kWh/year
Algeria: 49,000,000,000 kWh/year
Romania: 48,000,000,000 kWh/year
Uzbekistan: 48,000,000,000 kWh/year
Singapore: 47,180,000,000 kWh/year
Portugal: 46,000,000,000 kWh/year
Hong Kong: 42,000,000,000 kWh/year
Iraq: 42,000,000,000 kWh/year
New Zealand: 40,000,000,000 kWh/year
Hungary: 39,370,000,000 kWh/year
Peru: 39,000,000,000 kWh/year
Qatar: 34,000,000,000 kWh/year
Belarus: 33,000,000,000 kWh/year
Denmark: 32,000,000,000 kWh/year
Bulgaria: 31,000,000,000 kWh/year
Morocco: 29,000,000,000 kWh/year
Slovakia: 28,360,000,000 kWh/year
Serbia: 26,910,000,000 kWh/year
Bahrain: 25,000,000,000 kWh/year
Ireland: 25,000,000,000 kWh/year
Oman: 25,000,000,000 kWh/year
Nigeria: 24,000,000,000 kWh/year
Ecuador: 21,000,000,000 kWh/year
Azerbaijan: 20,000,000,000 kWh/year
Puerto Rico: 19,000,000,000 kWh/year
Iceland: 19,828,868,000 kWh/year
Syria: 17,000,000,000 kWh/year
Croatia: 16,970,000,000 kWh/year
Jordan: 16,000,000,000 kWh/year
Lebanon: 16,000,000,000 kWh/year
Dominican Republic: 15,140,000,000 kWh/year
Tunisia: 15,000,000,000 kWh/year
Cuba: 15,000,000,000 kWh/year
North Korea: 15,000,000,000 kWh/year
Slovenia: 13,000,000,000 kWh/year
Turkmenistan: 13,000,000,000 kWh/year
Tajikistan: 12,000,000,000 kWh/year
Mozambique: 12,000,000,000 kWh/year
Kyrgyzstan: 11,000,000,000 kWh/year
Sri Lanka: 11,000,000,000 kWh/year
Zambia: 11,000,000,000 kWh/year
Bosnia and Herzegovina: 11,000,000,000 kWh/year
Myanmar: 11,000,000,000 kWh/year
Uruguay: 10,000,000,000 kWh/year
Lithuania: 9,900,000,000 kWh/year
Sudan: 9,900,000,000 kWh/year
Georgia: 9,800,000,000 kWh/year
Paraguay: 9,700,000,000 kWh/year
Libya: 9,300,000,000 kWh/year
Democratic Republic of the Congo: 9,300,000,000 kWh/year
Costa Rica: 9,200,000,000 kWh/year
Ghana: 9,200,000,000 kWh/year
Trinidad and Tobago: 9,100,000,000 kWh/year
Guatemala: 8,915,000,000 kWh/year
The rankings change quite drastically for the average electrical energy use per capita (the kWh used per person each year). These are the top 35 countries for that ranking:
Iceland: 55,544 (5,777 watts per person)
Liechtenstein: 35,848 (4,092 watts per person)
Norway: 24,006 (2,740 watts per person)
Kuwait: 19,062 (2,176 watts per person)
Bahrain: 18,130 (2,069 watts per person)
United Arab Emirates: 16,195 (1,848 watts per person)
Qatar: 15,055 (1,718 watts per person)
Canada: 14,930 (1,704 watts per person)
Finland: 14,732 (1,681 watts per person)
Sweden: 12,853 (1,467 watts per person)
United States: 12,071 (1,377 watts per person)
Luxembourg: 10,648 (1,215 watts per person)
Taiwan: 10,632 (1,213 watts per person)
Cayman Islands: 10,477 (1,196 watts per person)
Australia: 9,742 (1,112 watts per person)
South Korea: 9,720 (1,109 watts per person)
Saudi Arabia: 9,658 (1,102 watts per person)
Guam: 9,217 (1,052 watts per person)
New Zealand: 8,939 (1,020 watts per person)
Brunei: 8,625 (984 watts per person)
Bermuda: 8,506 (971 watts per person)
Marshall Islands: 8,177 (933 watts per person)
Singapore: 8,160 (931 watts per person)
Austria: 8,006 (913 watts per person)
Macau: 7,532 (859 watts per person)
Russia: 7,481 (854 watts per person)
Saint Pierre and Miquelon: 7,479 (852 watts per person)
Trinidad and Tobago: 7,456 (851 watts per person)
Oman: 7,450 (850 watts per person)
Japan: 7,371 (841 watts per person)
Israel: 7,319 (835 watts per person)
New Caledonia: 7,263 (829 watts per person)
Belgium: 7,099 (810 watts per person)
Switzerland: 7,091 (809 watts per person)
Aruba: 7,039 (803 watts per person)