Hello and welcome to my website!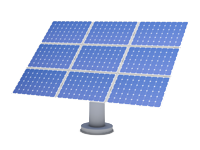 My name is Bob Robertson and I'm very happy to have you here.
I decided to start this little website pretty recently. With COVID-19 running rampant I find myself with a lot more free time than I used to have. My grandkids can't visit as much as they used to, and this gave me something new to try to help fill the time. I will admit that I needed some help getting started. I'm not very good with this web stuff, so my son and grandson have both been virtually helping me. My grandson, Kevin, is pretty good at this sort of thing and it has been fun working with him on this project. Did you know he can take control of my computer even though he lives 20 miles away? I just sit and watch the cursor move by itself while he works on it while talking to him on my phone.
I'm looking forward to adding a lot of pages to this website about solar power and other forms of renewable energy. I've always been one to encourage the people around me to be conscious of their impact on the environment and how things are powered has always been very interesting to me. I hope this website helps other people learn more about the energy possibilities that are now available to us. We've come such a long way and there is still more to come.
This page will be where you can come to see what is new on the website. Check back often. Being retired I have a lot of time on my hands.
Site Updates
Newest Update
Older Updates
I wrote up two new articles that I just published. One is about the effects solar power has on firefighting and the other discusses sun exposure for gardeners. Please take a look.
Joe added a new archive to his part of the website. It includes a list of all the content he has created over on Solar Energy Insights making it a great place to check everything out and make sure you haven't missed anything. Take a look at it here: Solar Energy Insights Archive
I wrote a new article about the seasons and what causes them. You can read the article by visiting this page if you are interested: The Sun and Earth Relationship: What Causes Seasons?
Wrote up a new article all about Solar Eclipses. You can find that article here: Student's Guide to Solar and Lunar Eclipses. Also my son Joe has been busy adding new infographics over at Solar Energy Insights.

My son Joe has added a part onto my website called Solar Energy Insights. There is a new link to his section of the website in the sidebar but you can also get to it here: Solar Energy Insights. He did a great job!

Have a contact form now so if you have any suggestions for my website you can reach out through that.

Just getting started. Adding all of the basic info to start off. More to come.

Adding some kind of certificate to make the website more secure. I'm told it's important and no one will visit my website without it. Thankfully my grandson was able to do this for me.