The Most Popular Solar Stocks to Invest In
Many homes and businesses are looking to reduce their carbon footprints, and solar energy is becoming a popular alternative to oil and gas. The cost of solar panels has dropped 70% since 2014, and it's estimated that by 2030, more than one in seven homes will have rooftop solar panels. The U.S. government is also expected to expand solar energy plans.
Since solar energy is becoming more common both in the United States and around the world, it's no surprise that solar stocks are becoming a popular investment. They offer long-term opportunities for investors, as the renewable energy sector is only expected to grow in the coming years. Solar energy stocks can be volatile at times, as the industry is still growing, but overall, many investors are looking to them as the country makes the transition from fossil fuels to renewable resources.
What Are the Best Solar Stocks to Invest In?
Many people who are interested in getting involved in solar panel stocks wonder which ones they should choose. There are many different companies leading the way in solar power innovation, and finding the right one to invest in is important.
The first thing investors should understand is what different solar energy companies actually do. There are generally three different functions that solar companies can do:
Create solar panels and components
Install solar panels
Operate solar generating facilities
According to investors, these are some of the best solar energy stocks to invest in that are expected to grow in the coming years:
Sunrun Inc. (RUN): Sunrun provides residential solar panels and backup home batteries. It is based in San Francisco and has been in business since 2007.
Sunnova Energy International Inc. (NOVA): Sunnova Energy is a residential solar and energy storage company. It was founded in 2012 and operates in 33 U.S. states and territories with more than 175,000 customers.
Enphase Energy Inc. (ENPH): Enphase was founded in 2006 and provides software-driven solutions ranging from solar generation to home energy storage and monitoring.
SolarEdge Technologies Inc. (SEDG): SolarEdge has its headquarters in Israel and provides solar inverters and power optimizers for solar panels. The company was founded in 2006 and has offices in Israel, Germany, Italy, Japan, and the United States.
First Solar (FSLR): First Solar is a solar panel manufacturer and solar plant provider based in Tempe, Arizona. They were founded in 1999 and are one of the top solar contractors in the world.
This is how some of these companies are expected to perform and grow through 2025:
Click the below image to view full-size.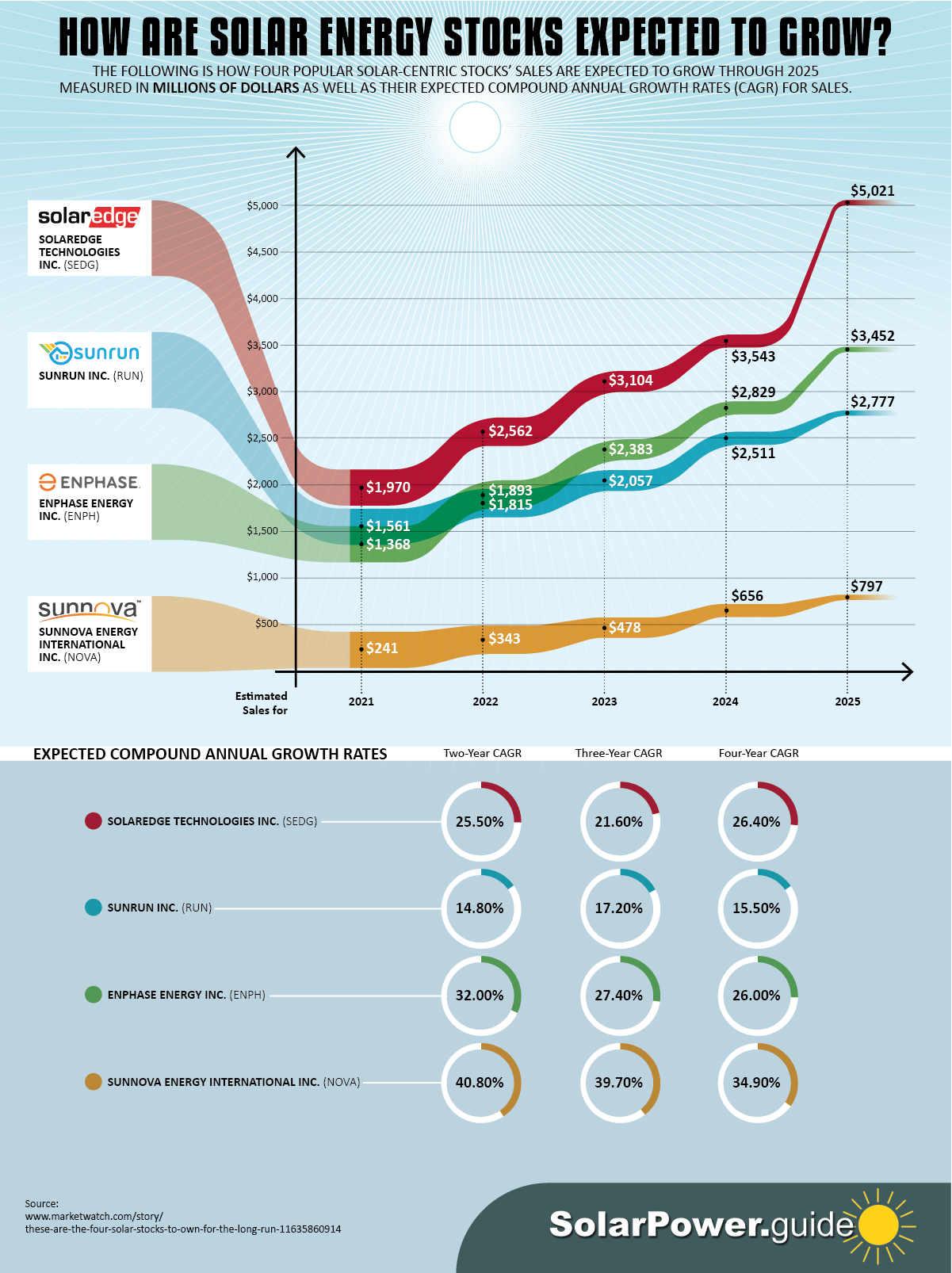 Simply copy and paste the code from the box below to share.
Some investors also invest in solar penny stocks, which are stocks of solar companies generally priced at less than five dollars per share that have low market capitalization. These types of stocks are speculative and can be a volatile investment for investors, but due to their low cost, an investment in solar penny stocks could end up being very lucrative if the stock takes off. Individuals looking to invest in solar energy penny stocks generally use stock screening tools to narrow down the field of available companies. The most popular solar penny stocks to buy or watch change frequently, so it's important for investors to do their due diligence to research companies and understand the risks before investing.