Everything You Need to Know About Solar Panel Cleaning
How often do you clean your solar panels? Most people don't clean theirs as often as they should, and a dirty solar panel can have a big impact on the amount of energy generated to power your home or equipment. If you live in a drier climate that doesn't receive much rain, solar panel cleaning is even more crucial as there will be much more dust buildup on the panels with nothing to naturally clean them. While rainwater can help to clear off dust, it isn't the best way to clean solar panels. When rainwater evaporates, it can leave rings of dust and debris, which will affect how efficiently the panels produce solar power. Read on to learn everything you need to know about solar panel cleaning, including how to clean solar panels, the necessary equipment to do so, as well as where to find solar panel cleaning services if the job is too big for you to do on your own.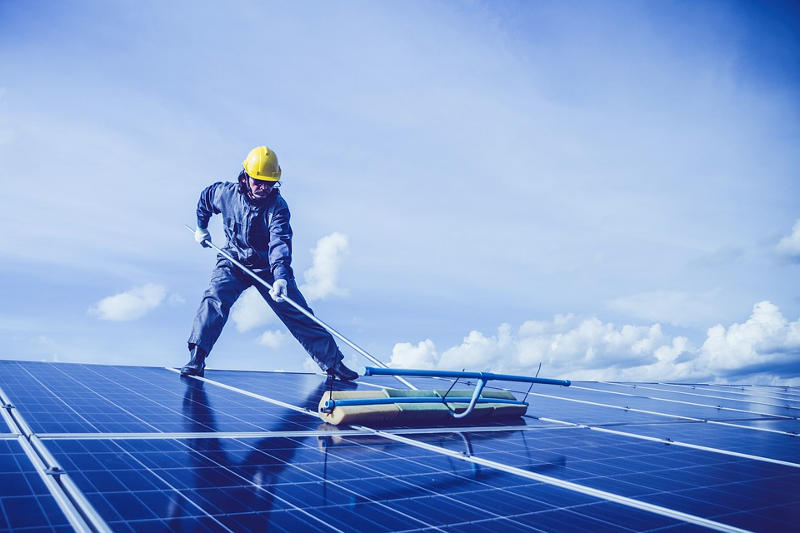 Why You Should Clean Your Solar Panels
Do solar panels need cleaning? The short answer is, YES! Learning how to clean solar panels as well as how to maintain solar panels will go a long way toward extending not only their life but how efficient they are in the long run. Solar panels degrade at a rate of 0.5% every year, and regular solar panel cleanings will do a lot to slow this rate down and extend the life of the solar panel. Cleaning solar panels regularly will also keep them producing power at a maximum rate. A study found that a combination of dust and particulate air pollution reduces solar energy production by 17-25%.
The most common reasons solar panels become dirty and less efficient are dust, leaves, water, and bird droppings. Birds are enemy number one when it comes to maintaining solar panels and keeping them clean. Birds and their droppings can cause much more damage to solar panels than a layer of dust can. Their droppings can chemically damage solar panels, and some birds like to nest underneath the panels, too, which can restrict air flow and cause them to overheat and get damaged. If you notice birds nesting underneath your solar panels, you can look into adding a bird barrier to the underside to deter them from doing so.
How to Clean Solar Panels
Can you clean solar panels yourself? You absolutely can clean solar panels yourself, but there are some things to know before you start the process. Before you start your solar panel cleaning project, you'll need to invest in the right equipment to do so; there are solar panel cleaning kits to make this step easier. For those wondering how to clean solar panels on the roof or elsewhere on your property, follow the steps below to get your solar panels looking (and working!) their best.
Solar Panel Cleaning Equipment You'll Need
A simple garden hose can be used to spray down the panels, but don't use a pressure washer, which could damage the panels.
Don't be too hard on a solar panel. A cleaning brush with soft bristles or a squeegee can be used to scrub grime and bird droppings from the panels.
Create a gentle solar panel cleaning solution by using things like vinegar, mild detergent, and water. Avoid using harsh chemicals when cleaning solar panels.
Make the whole process of gathering the proper solar panel cleaning tools and mixing your own cleaning solution even easier by purchasing a solar panel cleaning kit.
Steps to Solar Panel Cleaning
Step 1: Choose a cool time of day to clean your solar panels. Cleaning them during the hottest part of the day can make the water evaporate quickly and leave marks behind, and the combination of cold water hitting the hot glass of the solar panels can cause them to crack.
Step 2: Shut your system down completely before you begin to clean the solar panels. If you have rainwater collectors or gutters, shut them off or disconnect them from the system to avoid dirty runoff water going into them.
Step 3: Remove any loose debris or leaves from the solar panels using a soft brush or cloth. It's safest to clean solar panels from the ground, so use a brush with an extension to make it easier to reach.
Step 4: Spray the panels down with a garden hose to wash the dust away and loosen any debris. Use a hose with a nozzle so you can easily direct the spray at the panels.
Step 5: Use a soft brush and a solar panel cleaning solution to scrub any stubborn grime or debris off of the solar panels.
Step 6: Spray the panels again with water to rinse away the loosened debris, and use a squeegee to wipe the leftover water off of the panels. Only spray water onto the top of the solar panels; do not spray water on the back of them.
Step 7: Clean your solar panels every six months or less to keep them clean and operating at their best.
Solar Panel Cleaning Services
If the task of cleaning solar panels seems like too big of a job, there are also solar panel cleaning services that you can hire to do the job for you. By hiring a professional, you'll know that your solar panel cleaning will be done correctly. To find the right person for the job, ask for a recommendation from others who have solar panels on their property, or do a Google search for "solar panel cleaning service near me" and review the options that come up. Check reviews of different companies to find the most highly rated ones to do the job.